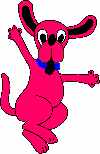 Please wait, I'm coming over...







//show loading message

//hide content
10/11/2007

Our location - Winterset, IA

John Wayne Birthplace

click on images to enlarge

As we traveled from back from a funeral in Hayward, WI, we stopped in Winterset, IA.
We had planned to come to Winterset when we went through Iowa earlier in the year but weather had changed our plans.

click on images to enlarge

This is the house that John Wayne was born in. Like almost every American boy, John Wayne was one of Mark's heroes.
It was a pretty small house. John Wayne's father was pharmacist.

click on images to enlarge

Winterset is located in Madison County where the Covered Bridges of Madison County are.



This covered bridge was moved to a city park.

click on images to enlarge

click on images to enlarge
---
Disclaimer: The information in this site is a collection of data we derived from the vendors and from our personal experiences. This information is meant as a learning guide for you to make your own decisions Best practices and code should always be followed. The recommendations we make are from our personal experiences and we do not receive any compensation for those recommendations.
//hide content //hide loading message